BMS | Benchmark Management System®
At Last . . . A Police Force Management Tool That Does It All
Benchmark Management System is a comprehensive, top-to-bottom software platform – featuring seven analytics-driven, integrated management modules to choose from – designed to capture all of the day-to-day operational data points in one location. There's no need to buy separate programs such as Use of Force, Internal Affairs and Performance Evaluation. BMS is truly your single-source solution:
Scalable and configurable to address the specific requirements, policies, goals and mission of your department
Can be designed to integrate with your existing systems to collect all performance and personnel data in one centralized repository
Provides a holistic view of your police force to ensure the integrity and safety of all officers, units and supervisors
Our Proprietary, Seven-Module Management Lens
As an all-encompassing, fully automated management tool, BMS features seven integrated modules — essential for capturing critical data and departmental reports to facilitate proactive police force management and preventative early intervention. What's more, BMS is 100% secure, easy to navigate and simple for your officers and staff to enter all required data and chain-of-command reviews — using our sophisticated reporting engine.
MORE
Training
The BMS Training module:
Manages up-to-date training history for every officer in compliance with Police Officer Standards and Training (POST) guidelines
Houses police academy instruction and Field Training Officer (FTO) training via video-based, documented materials
Manages firearm qualifications and expiration date notifications
Helps officers understand and address any opportunities to improve performance
MORE
Activity
The BMS Activity module:
Tracks and analyzes daily on-duty activities such as traffic and pedestrian stops, field interviews, parking and administrative notices, discretionary charges — as well as misdemeanor and felony arrests
Integrates with your existing RMS and CAD systems with advanced analytics to help better understand and evaluate officer activity across your department
Allows for instant review of activity over a specific period of time by individual officer . . . along with comparison graphs featuring watch/unit and department averages
MORE
Use of Force
The BMS Use of Force module:
Provides a wizard-like system that captures necessary information for documenting force, only asking questions related to type/context of force used
Collects and organizes routine information — officer/subject data, location, date/time, weather, etc.
Records type of force applied such as vehicle pursuit, physical action, OC spray,  ECW discharge, firearm usage
Documents interactions involved with an incident — use-of-force sequence, charges, resisting arrest, injuries, etc.
MORE
Internal Affairs
The BMS Internal Affairs module:
Offers a comprehensive IA case management system with automated workflow design that captures all incident data points, arrests, evidence and more
Manages reporting, reviews, approvals and input — throughout chain of command
Ensures alleged officers are notified of findings, final disposition and recommended actions
Features a feedback tool documenting receipt of complaints and allegations, IA team assignment and final adjudication notice
MORE
Community Engagement
The BMS Community Engagement module:
Tracks the time officers and department members spend engaging with the community — public meetings, school visits, local business interactions, etc.
Facilitates collaboration to ensure your agency is responsive to community-based issues and activities
Records positive/negative community feedback along with course of action
Documents citizen letters of recognition, tracks agency acknowledgements and automates department awards
MORE
Performance Evaluation
The BMS Performance Evaluation module:
Automates your existing performance evaluation form set or can be configured to

BMS

system
Allows supervisors to review information, score officers on performance and provide observations to make an informed evaluation
Features an exception-based workflow option that flags evaluation scores below acceptable rankings — and routes to proper parties for further action
Manages scheduling, chain-of-command reviews and follow-up action plans
MORE
Officer Profile
The BMS Officer Profile module:
Manages and updates all officer information . . . e.g., personal data, emergency contact information, appointment date, unit assignment history, equipment and weapons management, external employment, etc.
Records all disciplinary actions, lawsuits, line-of-duty injuries — along with commendations, awards and advancements
Provides a single dashboard view of all 

BMS

 modules in one place — making it easy to retrieve, review and analyze any information of interest
Our Dynamic Reporting Dashboard for Data Retrieval and Review
BMS features an instant-access dashboard that is easy to view and navigate. It provides detailed information for every data element in your configured platform. Each element featured on the BMS dashboard provides valuable intelligence — including:
Incident-based data for individual
officers
Comparative stats for every
unit
Data analyses for your entire
department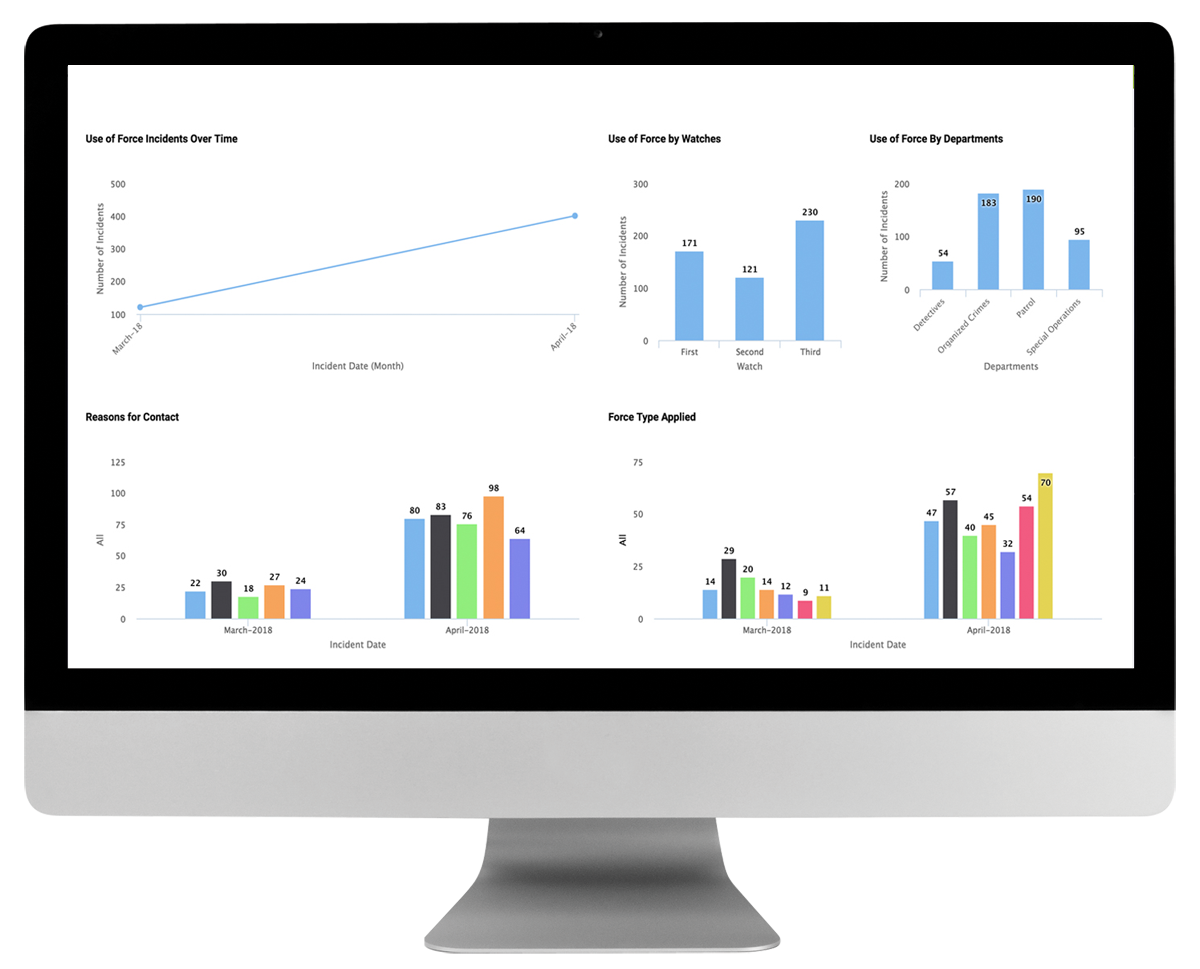 Additionally, BMS is designed to allow police department administrators, supervisors and commanders to review data, analyses and progress over designated periods of time . . . from a week or several months, to a year or more. Furthermore, through the advanced analytics built into BMS, it gets smarter over time — uncovering new insights that will help evolve your department to make it even more efficient and effective.